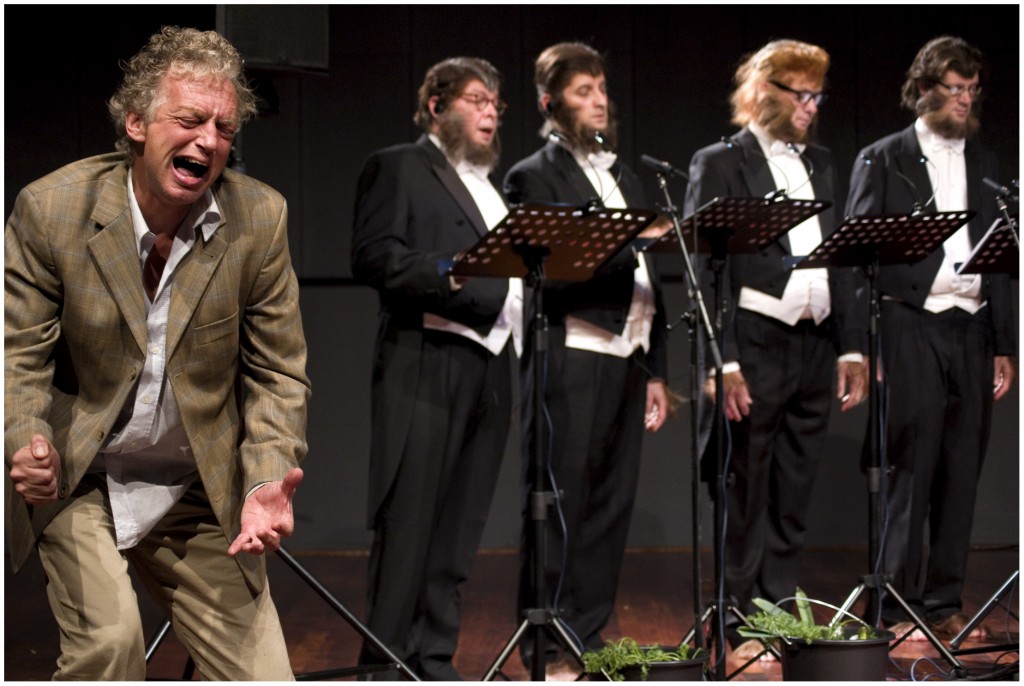 What ->
When/Where ->
With ->
Media ->
Press ->
Download libretto
Download booklet
What:
APERA
About the origins of singing.

Is singing a 'natural' thing?
What is singing ?
Is singing a cultural development of humanity? High-Art?
Or is it a very basic thing, something we always go back to, deeply nested in our limbic system?
We all know that babies, stutterers and demented elderly love to sing.
I did research on the vocalisations of our closest relatives: apes, to find out if monkeys are able to sing.
So I took my taperecorder and went to the zoo.
Also I looked for sound clips on the internet and in libraries
of soundproducing – or singing! – monkeys.
I made transcriptions of 10 beautiful ape-recordings.
And I discovered: when a vocal snippet of a transcribed 'singing' monkey is repeated really slowly, it sounds like early medieval music.
Monkeys do sing!
I found out that there are conceptual similarities between for instance
pygmee-singing, early medieval singing ánd the singing of monkeys:
they all use short rhythmic cycles, repetition of melodic themes, yodeling (pant-hoot) and often: in a 3-feeling, like a waltz: taatetaaatetaaa
Gibbons sing for fun in family duets and trios, from one tree to the other, joie de vivre.
These are beautiful songs, with a lot of repetition.
The Apera is based on the 10 ape-recordings, the Egidius quartet sings the transcriptions.
But with one big difference: they sing them really slowly, in a very controlled fashion.
And there is an audience: Marien Jongewaard.
I think in the evolution of mankind first there was singing.
And only after more then 10.000 years man became able to talk.
When someone is not able to express himself with words,
there is always an old remnant, a relic from prehistoric times,
somewhere deep in our limbic system. OEœœœ !. Aaaah …

Media:
When/Where:
Oktober 2013
08 Den Bosch, Artemis
09 Rotterdamse Schouwburg
10 Rotterdamse Schouwburg  (premiere)
11 Rotterdamse Schouwburg
23 Amsterdam, Frascati
24 Amsterdam, Frascati
25 Utrecht, Theater Kikker
26 Utrecht, Theater Kikker
Maart 2014
27 Drachten Schouwburg De Lawei
April 2014
10 Enschede Theater Concordia
11 Den Haag Korzo Theater
12 Leiden Stadspodia
14 Amsterdam Ostadetheater
15 Groningen Grand Theatre
16 Groningen Grand Theatre
17 Amersfoort De Lieve Vrouw
Mei 2014
1 Utrecht St Josephkerk
2 Arnhem Schouwburg Arnhem
6 Deventer Theater Bouwkunde
8 Haarlem Toneelschuur
10 Almere Corrosia
November 2014
28 Stadsschouwburg Amsterdam TEDx
With:
Marien Jongewaard & Egidius Kwartet :
Peter de Groot – alt
Albert van Ommen / Stefan Berghammer – tenor
Hans Wijers – bariton
Donald Bentvelsen – bas
regie: Jetse Batelaan
tekst: Erik-Ward Geerlings
muziek: Huba de Graaff
grime: Josien Porsius
stagiaire grime: Eva Poppe
met Artis Ensemble OP TAPE:
Roberto Genova – sax/klarinet
Antonis Pratsinakis – cello
Charlie Bo Meijering – piano
Produktieleiding + techniek: Jasper Hupkens
Publieksbereik: Mischa Samsom
Zakelijke leiding: Hester Wolters
publiciteit: bureau TamTam Lonneke van Eden
grafische vormgeving: Emmy Visser
foto's & trailer: Bowie Verschuuren
Press: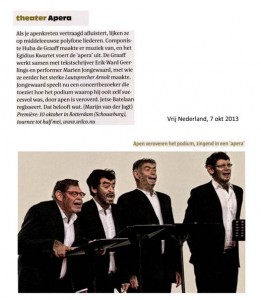 Vrij Nederland 7-10-13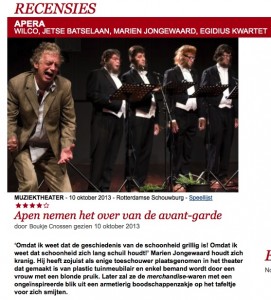 Theaterkrant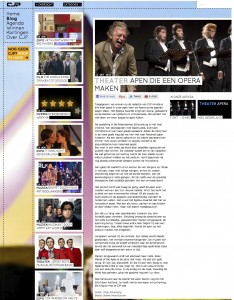 CJP