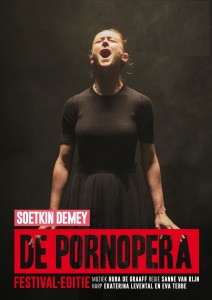 What ->
With ->
Where/When ->
Press ->
More (in dutch) ->
Download info-pdf
1st Pornopera-version with Hans Dagelet
What:
About everything what happens with your voice BEFORE you start singing.

Many great stories and operas are about desire, craving, sex.
But this opera focusses directly on the essence.
In the Pornopera the orgasm is elevated to Art.
No it is no 'porn'! and it is not about the dubious side of porn.
One orgasm (and everything just before) with a total duration of one and a half minute becomes an epic orgasm of 45 minutes, as a slowly slipping organic ritual.
Three moaning voices come to a painfully slow built-up climax.
The performance takes place in the semi-darkness, on the border of visible and invisible. Pornography is mostly visual, but the sound of porn may touch deeper.
In my research into the origins of singing, I came upon the fascinating twilight zone of the deep human moan.
THE PORNOPERA mainly shows what precedes the singing:
… breathing, sighing, panting, moaning…
Embedded by harps and electronics, Soetkin Demey's voice comes to an unrivaled climax. This is beautiful music theater, which takes place in the semi-dark domain of secret and sensual pleasure.
What is 'singing'?
If I try to sing myself it always starts with a small amount of moaning: a hoarse cough-like grouching quality. Then it takes quite a while before my voice becomes a clear (almost) stabilized pitch: singing.
Just before the vocal cords close, just before they start to vibrate regularly, there is always a small noise: moaning. With an untrained voice, this effect is stronger than with a trained opera voice.
Pop singers emphasize this personal, expressive sound in their voice, while opera singers are trained to eliminate all the superfluous noise.
But this tiny 'moan' is what makes a voice really expressive and highly individual.
When you do not have to reach the back row of La Scala in Milan but only want to sing close to someone's ear or to the microphone, a world of unprecedented subtleties can be heard: moaning, hoarse sighing, panting, all kind of junk-noises and other really interesting sounds.
I've been looking for authentic moaning sound material. Yes, people do groan and moan a lot while exercising sport, but the ultimate art of moaning is of course: sex.
So I started collecting pornographic audio-material: all the vocal sound of building towards an orgasm. Next I analyzed the audio by splitting the sound-material into (ultra) short samples, and categorized these fragments into different vocal techniques.
I wrote down this apparently "universal" structure and translated it into a longer musical form: an opera.
These are overall the different types of moaning:
A moan can go outside (exhaling) — >
Or inhale <—- inhalation
A moan can stay at one steady pitch, or energy level.
Or falling (almost always falling, ascending rarely occurs).
A moan can get louder or softer (with more or less air pressure), be shorter or longer.
And with the vocal cords closed or freely vibrating.
A moan can be very complex or simple, straightforward.
For example, a moan can start neutral and softly, and then loud going down.
A moan can be so beautiful and so fascinating and rich in frequencies and overtones.
The art of the female orgasm… and everything just before.
(Normally this takes about 1'30, but we're doing everything really slowly: it is an opera for connoisseurs, so it takes … 45 minutes.)
I started creating a series of 'opera's' by doing research on monkeys: I wanted to know if monkeys are able to sing. And yes, some monkeys definitely do sing, so my conclusion is:
in the evolution of mankind first there was singing, and much later hominides became able to talk. If you listen to demented elderly who almost forgot how to speak: they still love singing.
Or very young children: they always love singing, it is very obvious.
Also in many languages there are still remnants of singing: so-called tonal languages in which the use of pitch serves to distinguish lexical or grammatical meaning.
My research on the origines of singing resulted in the 'Apera', an opera in which 4 barok-singers sing my monkey-transcriptions, but then: very slowly.
Monkeys even do use small melodies, which they sometimes repeat.
(But they never sing together. This is typically human.)
Very funny
Isn't it like all finales in romantic classical music tend to imitate the rhythm of a male ejaculation?
Listen to the climax of Bruckner symfonie nr 8, or 7, Mahler: Symphony No. 3 , Wagner : Die Meistersinger von Nürnberg finale, Tsjaikovski – Ouverture 1812, Shostakovich: Symphony No. 5, Mendelsohn no5, Brahms no 2, etc. etc. etc…. It's one big sexual sublimation.
Imagine a hot summer evening, all windows are wide open, and everywhere you hear women screaming, while having orgasms. It sounds like… singing. And the whole world is sighing, panting and moaning, vibrating, oscillating, and then, finally: the climax.
Everyone loves listening to singers when they are completely relaxed, and letting themselves go. Singing feels like a relief, kind of liberation.
Porn is often dirty, vulgar and fake. We make something beautiful: a high-brow PornOpera.
from: Susan McClary – Feminine endings:…"Yet there are many areas of human experience that Adorno overlooks or denigrates as regressive, such as pleasure or the body. "…
…"Our academic music disciplines tend, …, to deny the presence even of expressive (let alone erotic) components in music. … the tendency to deny the body and to identify with pure mind underlies virtually every aspect of patriarchal Western culture. "…
THE ART of female ORGASM




"The "Pornopera" is gripping, exciting, surprising but never pornographic."




"Very clever approach to a whole new form of Opera Experience!"(Cultuurpodium)




"Touching beautiful" …




"…

nothing is so personal, so intimate, as the sounds you make during sex." (NRC)
(Sexual) moaning has never sounded so beautiful…
The original Pornopera was embedded in the story' Myrrha' by Ovid, told by Hans Dagelet.
With:
Soetkin Demey
Eva Tebbe harp & vocals
Ekaterina Levental harp & soprano
Sanne van Rijn director
Huba de Graaff music
Floriaan Ganzevoort light design
Vid Ahacic sound design
Sascha van Riel stage design
Quirijn Smits dekorbouw
Nina Kraszewska sound engineer
Britt Verstegen zakelijke leiding
Jasper Hupkens production
publiciteit: Bureau tamtam/Lonneke van Eden
grafisch ontwerp: Emmy Visser
fotografie: Bowie Verschuuren
Where/When:
Try-out Rotterdam Krijn Boon studio 27 + 28 mei 2015
première – Rotterdamse operadagen 29 mei 2015
30 mei Rotterdamse operadagen
11 september Almere – Corrosia
15 september Amsterdam – Frascati 1
16 september Amsterdam – Frascati 1
23 september Haarlem – Toneelschuur
24 september Utrecht – Theater Kikker
25 september Utrecht – Theater Kikker
26 september Deventer – Theater Bouwkunde
7 november 's Hertogenbosch – festival November Music
21 november Tilburg – Nieuwe Vorst
1 december Leiden – Theater ins Blau
12 december Ostade A'dam – Muziektheaterdagen A'dam 2015
17 december Grand Theatre Groningen – De Oosterpoort
22 juli 2016: Wonderfeel
21 oktober 2017 Leuven – Transit
26 september 2019 Berlin – BAM!
18 juni 2023 Veemtheater Amsterdam

Press: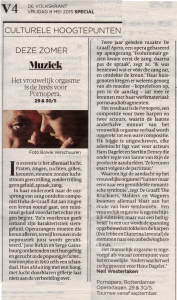 VK 08-05-15
More:
Wat is Zang
Het zou toch prachtig zijn: een zwoele zomeravond, alle slaapkamerramen staan open, en overal hoor je vrouwen loeiend, schreeuwend, en 'zingend' klaarkomen. Alsof de hele wereld zucht en steunt en kreunt. Trillend, en steeds weer die ontlading. Want zingen is loslaten, bevrijding. Waarom is het toch zo fijn om te luisteren naar zangers die eerlijk en zonder remmingen volkomen vrij kreunen en zingen en zich compleet laten gaan? Zouden we dat niet allemaal zo willen?
In een serie muziektheaterstukken (opera's met andere middelen) wijd ik me sinds een aantal jaren aan fundamentele vragen als: Wat is zang? Hoe werkt het? Wat is de functie ervan? Waarom gaat iemand zingen?
Voor het vorige project 'Apera' deed ik onderzoek naar het ontstaan van zang. Mijn conclusie was: eerst was er zang en van daaruit ontstond spraak. Daarna ben ik gaan onderzoeken hoe 'zingen' tot stand komt.
Als ik zelf probeer te zingen komt er eerst relatief veel geschraap, een beetje hees gehijg en vervolgens duurt het nog behoorlijk lang voordat er sprake is van een soort stabiele toonhoogte: zang.
Vlak voordat een helder zanggeluid klinkt, wanneer de stembanden zich sluiten, vlak vóór ze gaan trillen en de trillende lucht er uitgeperst wordt, is altijd een beetje gekreun hoorbaar. Bij een ongetrainde stem is dit effect sterker dan bij een geschoolde operastem.
Maar bij alle zangers zit er wel iets vóór de zang, al is het een miniem kreuntje. Die kreun geeft ieder stemgeluid zijn eigen karakter. Popzangers hebben dit persoonlijke, naar binnen gerichte en expressieve gekreun tot een ware kunst verheven, terwijl bij operazangers alle bijgeluiden juist worden weggetraind. Maar juist dat individuele randje, dat stukje geluid dat vlak vóór het echte zingen zit alvorens alle uithoeken van de zaal worden weggeblazen door een bulderend vibrerende opera-stem, juist dat kreuntje geeft een zanger extra expressiemogelijkheden, en zorgt er ook voor dat iedere zanger individueel goed is te onderscheiden. Daarin is de menselijke stem juist zó mooi, zó rijk en expressief.
Wanneer je niet de achterste rij van het scala van Milaan hoeft te bereiken, maar bijvoorbeeld gewoon dichtbij iemands oor zachtjes zingt, of heel dicht op de microfoon, blijkt er een wereld van ongekende subtiliteiten mogelijk: kreunen, hijgjes, heesheid, ruwe randjes en heel veel interessante bijgeluiden.
Zang ontstaat vanuit de kreun: de techniek
Wat gebeurt er allemaal vlak voordat er wordt gezongen?
De stembanden bestaan uit twee symmetrische witte plooien, samengesteld uit spier- en bindweefsel. Tijdens het in- en uitademen staan ze wijd uit elkaar. Als je geluid maakt met je stem (praten, zingen) gaan de stemplooien eerst vlak bij elkaar staan zodat er een smalle spleet ontstaat. Vervolgens door de luchtdruk en luchtstroom gaan de slijmvliesranden van de stemplooien tegen elkaar trillen en ontstaat er geluid.
Zangers trainen de een perfecte timing tussen sluiten van de stembanden en het geven van lucht.
Stembanden gaan nooit in één klap dicht: en vlak vóór ze 'perfect' gesloten zijn hoor je een voorgeluid: een kreun.
Dus de volgorde is: valse lucht, kreun, stembanden sluiten zich steeds meer, en gaan uiteindelijk meetrillen, met als resultaat: zang.
Ik ben op zoek gegaan naar echt en authentiek gekreun. Al snel belandde ik op het ultieme kreun-terrein: seks. En daarom ben ik porno-audiomateriaal gaan verzamelen, met name van het gekreun vlak vóór het orgasme, en deze porno-audio-fragmenten heb ik geanalyseerd.
Vrouwen komen vergelijkbaar tot 'zang'
Ik heb alle porno-audiotracks uit elkaar geplozen tot (ultra) korte audio-stukjes, en ingedeeld in verschillende stemtechnieken.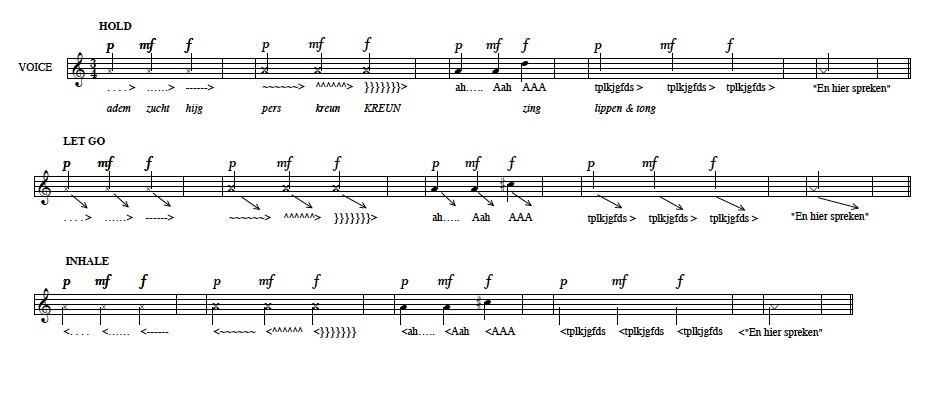 Het vrouwelijk pre-orgastisch gekreun klinkt steeds volgens dezelfde stem-technische opbouw (elke klaarkomende vrouw doet ongeveer hetzelfde): van adem naar hijg naar kreun, inhaleer, hardere kreun, stukje spraak, herneming opbouw, enz.
Tot het hoogtepunt: want dan gaat ze 'zingen'.
Tijdens het orgasme is de 'controle' vrijwel uitgeschakeld, en dan hoor je een ongeforceerde, ongecontroleerde opbouw naar een soort 'zang' (trillende stembanden op toonhoogte): de bevrijdende uitroep.
Ik heb deze 'universele' opbouw groots neergezet en vertaald naar opera: de Pornopera.
Een kreun is zó mooi en zó fascinerend en bovendien rijk aan frequenties en boventonen. In een kreun zit iemands persoonlijkheid. Een kreun is bovendien eerlijk, want het is de ongemanipuleerde fysieke klank van de nog-niet-sluitende stembanden.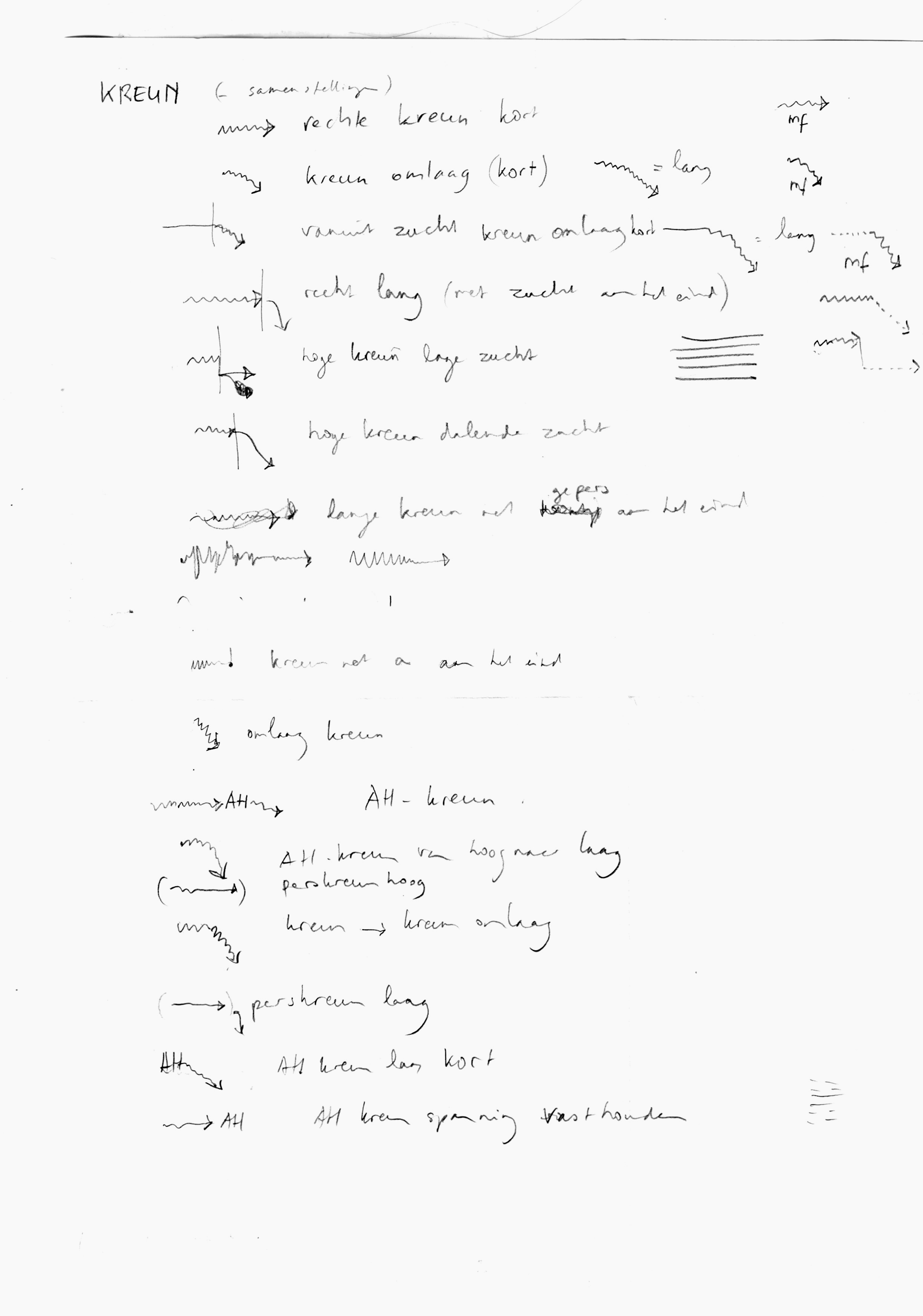 Soorten kreunen
Een kreun kan naar buiten gaan (uitademend) —> naar buiten
of naar binnen (inhaleren) <—- inhaleer
Een kreun kan strak op één toonhoogte blijven
of dalen (bijna altijd dalend, stijgend komt zelden voor)
Een kreun kan complex en samengesteld zijn of simpel, rechttoe rechtaan.
En dan natuurlijk gradueel: harder of zachter (met meer of minder luchtdruk), korter of langer. En met de stembanden meer of minder gesloten.
Zo kan een kreun bijvoorbeeld strak en zacht beginnen om vervolgens hard te dalen.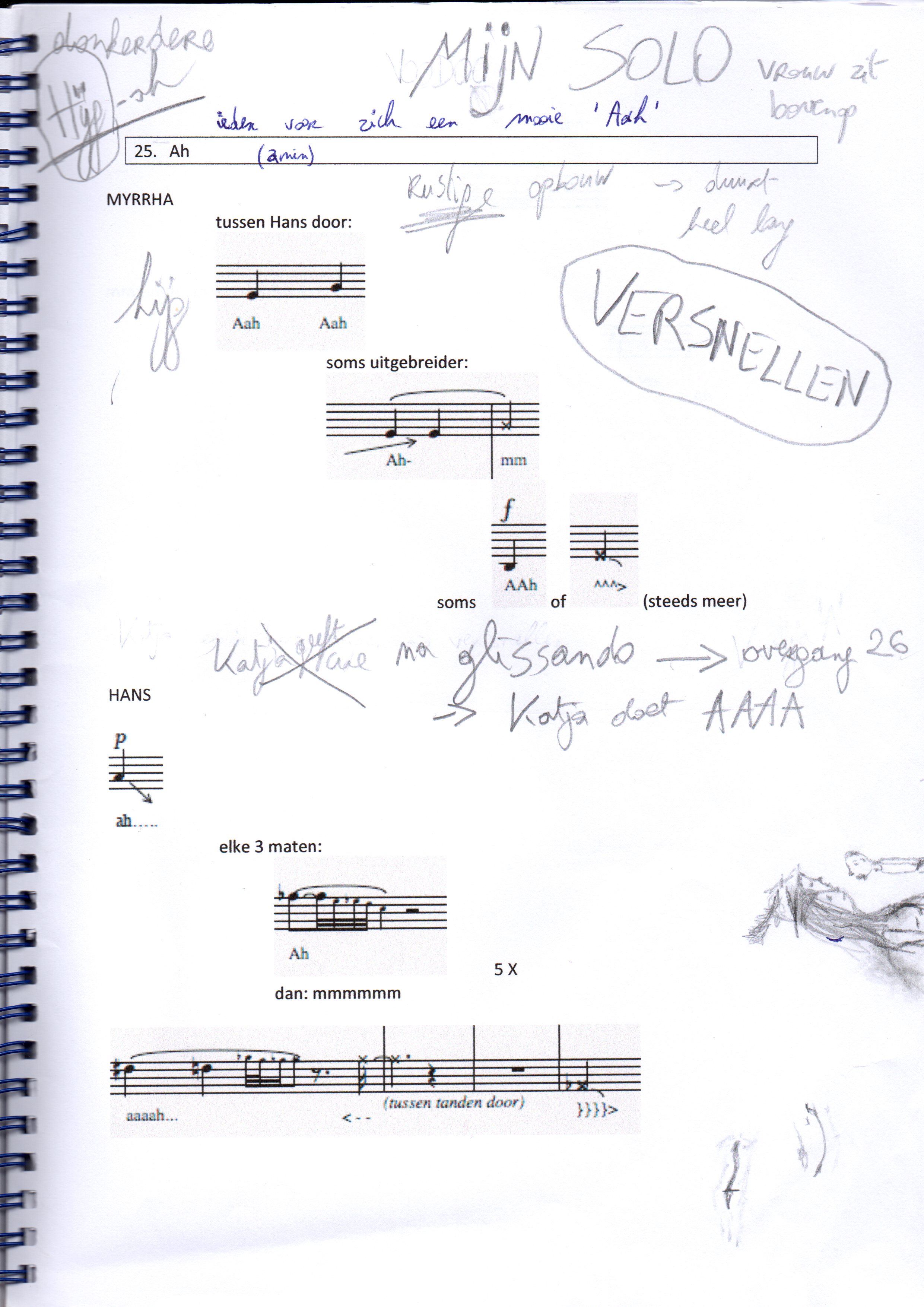 All about the first version Pornopera with Hans Dagelet ->