A reconstruction of the composition 'Jagdstück' – a composition by Michael von Biel (1966)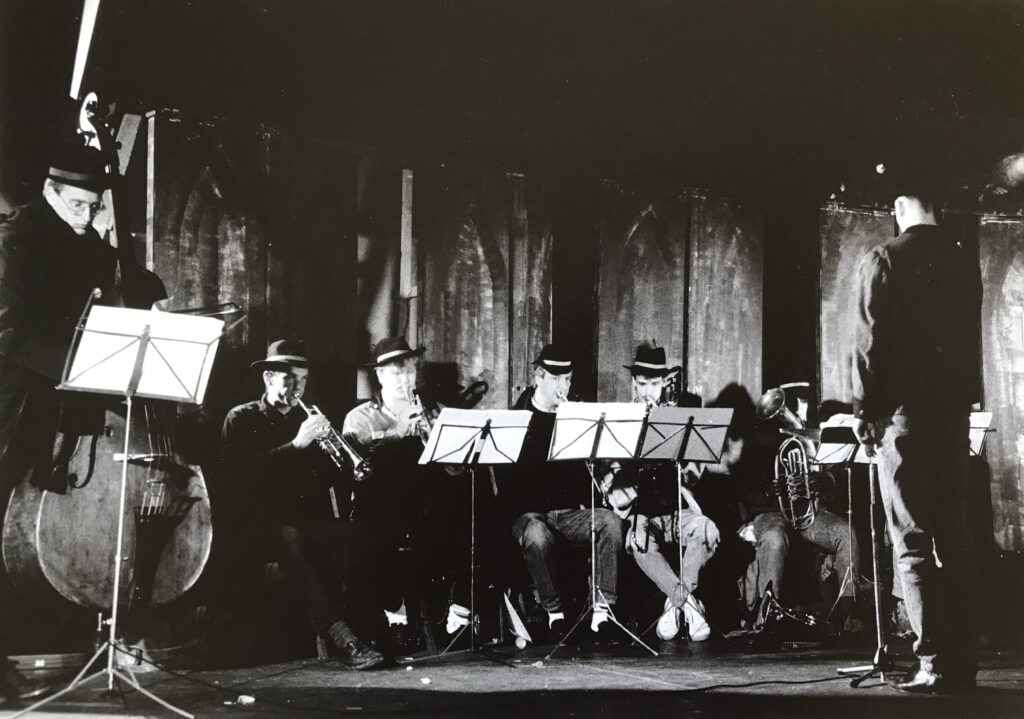 In 1986 Arthur Sauer and Huba de Graaff made a reconstruction of 'Jagdstück' by the composer/artist Michael von Biel.

To obtain all necessary information they corresponded with the artist and several musicians who were involved with the Urausführung. Von Biel wrote them about the score, which was pretty unclear, and several technical issues, for instance the use of the grill/barbecue. Finally, after doing a lot of nightly research by barbecueing in the garden of the Royal Conservatory of The Hague, their investigation resulted in a legendary Dutch performance.
'Jagdstück' has been premiered in Germany in 1968, De Graaff & Sauer premiered this work in the Netherlands in 1986.

With:
Marco Duijm (trombone)
André Kouwenhoven (trombone)
Jacob Jansen (hoorn)
Linda Weeteling (hoorn)
Guido Kuiperi (trompet)
Ruud Dorst (trompet)
Susanne van Els (cither)
Paul de Jong (barbecue – grill)
Erik-Ward Geerlings (barbecue – grill)
Tis Marang (double bass)
Robert Mendel-Windmüller (scenery)
Emiel Zwaard (sound engineer)
Steve Martland (conductor)
Huba de Graaff & Arthur Sauer (production & sound design)
Michael von Biel (born 30 June 1939 in Hamburg) is a German composer, cellist, and graphic artist. Von Biel studied piano, theory, and composition in Toronto (1956–57), Vienna (1958–60), New York (1960, with Morton Feldman, amongst others), London (1960, with Cornelius Cardew), and Cologne (with Karlheinz Stockhausen). From 1961 to 1963 he attended the Darmstadt Vacation Courses for New Music. In 1964 he received a commission from the WDR for the electronic piece Fassung. From 1965–66 he was Composer in Residence at the State University of New York in Buffalo. Since 1966 Michael von Biel has lived in Cologne, where he came into contact with artists of the Fluxus movement. From 1968–69 he studied with Joseph Beuys at the Düsseldorf Kunstakademie. In the following years he created works in the visual realm especially. 
His Jagdstück (1966) for brass, contrabass, tape, and amplified cricket is one of the most singular works of the twentieth century. 
(source: Soundohm)