The Naked Shit Songs
A reconstruction of an interview from 1996
by Theo van Gogh and Gilbert & George,
presented as : Opera.
All spoken words during this interview are being sung.
With : Xander van Vledder, Nigel Robson, Christopher Robson,
direction Marien Jongewaard, composition Huba de Graaff.
première : Holland Festival 2017 – Amsterdam
With ->
What ->
When/Where ->
Press ->
Video ->
Download info pdf ->
With:
Xander van Vledder (actor) as Theo van Gogh
Christopher Robson (countertenor) as Gilbert
Nigel Robson (tenor) as George
Kristján Martinsson – repetitor, keyboards/flute
Wiek Hijmans – electric guitar
Onno Govaert – drums
Tim Sabel – piano
Vasilis Stefanopoulos – double bass
pre-recorded: trio Escapada (Emma Breedveld, Bence Huszar, Sebastiaan van Delft)
choirs:
GALA-koor o.l.v. Yt Nicolai
reART Wereldmuziek Koor o.l.v. Selim Doğru
Jasper Hupkens
pre-recorded choir : NKK olv Peter Dijkstra

Huba de Graaff – composer – artistic director
Marien Jongewaard – direction
Erik-Ward Geerlings – dramaturgy
decor – Juul Dekker
lightdesgn – Wilfred Loopstra
costumes – Bernadette Corstens
ass. costumes – Siebe ten Dam
sounddesign – Vid Ahacic
video design – Willem Weemhoff
voorstellingsleider – Janneke Lindner
technische coördinatie – Huub Mars
subtitling arabic – Bakhcha Mohammed
publicity – Lonneke van Eden – bureau TamTam
graphic design- Emmy Visser
naar een idee van Jan Elbertse
'Een Prettig Gesprek van Theo van Gogh met Gilbert & George was een programma van Theo van Gogh, Olivier Jansen en René van Praag (c) 1989-2017 TVAmsterdam/RVP Produkties, Amsterdam'.

zakelijke leiding Britt Verstegen
 info@cultuurkwesties.nl
31 (0)6 4577 8047

productie Geertje Spaan
 geertje@hubadegraaff.com
 31 (0)6 1438 1644

publiciteit Lonneke van Eden – bureau tamtam
 lonneke@bureautamtam.nl
 31 (0)6  290 30 776
When/Where:
INFO
data:  do 22, vr 23 juni 2017 Holland Festival
location:  Stadsschouwburg Amsterdam, Rabozaal
duration: 1'40 , no pause
language: English with Dutch – English – Arabic subtitles
Touring : 2018

Press:
de 'Groene Amsterdammer':
"Most surprising at the Holland Festival was the new opera from Huba de Graaff  …."
"…. outstandingly sung by the  Scottish brothers Nigel en Christopher Robson …."
****Parool: "… intelligent, surprising compositions by De Graaff …, excellent performance  by cast and musicians."
NRC:"… from 'a nice conversation' to enthralling musictheatre. Actor Xander van Vledder as Theo van Gogh : messy, cheerful, impatient, sharp, with sense of humor and absurdity. (…)
…the end: shocking and well timed…"
"….Gilbert & George : beautiful acting/singing roles of brothers Christopher en Nigel Robson…"
Theodor Holman – Parool : "Als u vanavond naar de Schouwburg kunt, ga kijken. Van Gogh als onderdeel, bijna de hoofdrol, in een opera. …"
****Theaterkrant: "… de opbouw van de muziek, die naar een exuberant crescendo toewerkt…"
"…'Art has to be provocative', as Gilbert & George are saying.
The Naked Shit Songs succeeds."
interview VPRO-gids
interview cultuurpers
interview Christopher Robson – BBC4
interview Telegraaf
interview Theatermakers (radio) with Erik-Ward Geerlings: part1
– part 2 – part 3 – part 4 – part 5
interview Huba Parool
Artikel NRC
interview VPRO-television
recensie Theaterkrant ****
recensie Parool ****
interview Huba de Graaff VK
column Theodor Holman
artikel over HF – De Groene Amsterdammer
HF video interview Nigel & Christopher Robson
HF video interview Xander van Vledder
HF video interview Huba de Graaff with Thea Derks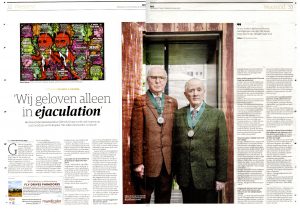 artikel in Parool door Rob Malasch: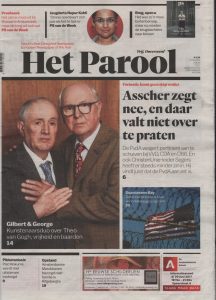 … and part 2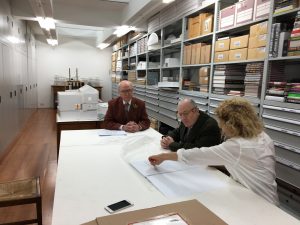 What:
The Naked Shit Songs
a retropera
'We believe in democratic pictures. That a child can see them and understand in some level, and a person of ninety.' This is what Gilbert & George said to Theo van Gogh in 1996. Van Gogh spoke to the artist duo in his legendary programme Een Prettig Gesprek (A Nice Chat) at the time of The Naked Shit Pictures exhibition at the Stedelijk Museum. Huba de Graaff, composer of Apera (about the origin of singing) and Pornopera (about the art of moaning), used the interview as libretto. Directed by Marien Jongewaard, actor Xander van Vledder as Theo van Gogh, Nigel Robson and Christopher Robson as Gilbert & George, and a choir sing this 'retropera' – about art, sex and religion, Muslims, tolerance, love and death.
Why does anybody sing?
I think in the evolution of mankind first there was singing.
And only after more then 10.000 years man became able to talk.
Monkeys also do sing (see my earlier composed Apera), demented elderly like to sing, children sing before they can talk, stutterers have benefit from singing as well.
Singing is something very deep in the (human) nature.
But singing seems quite strange, like you have to make extra effort.
People talking the whole day through, but they hardly sing.

With these thoughts in mind I met Jan Elbertse one day, and he gave me the tape of the interview (Theo van Gogh interviews Gilbert & George, broadcast by AT5 in 1996), and asked me if I we could do something with the interview.
So I began to write some songs based on the dutch subtitles, but I realized more and more:
This should be a grand opera.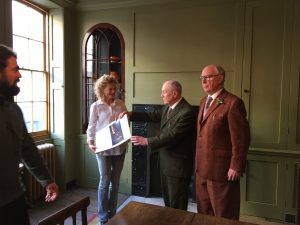 1996, it seems so long ago.
People were drinking wine and smoking cigarettes on television, meanwhile discussing everything, frankly.
About gay people, about muslim people, about art, about Christian values, about money, shit, and about love, tolerance and death.

These spoken words are all very impressive, and should be emphasized.
Moreover, we know what happened to Theo van Gogh in 2004.
So I decided to write an opera.
We go back in time, to 1996 – it feels a very long time ago – and we'll cherish those words, and save them.
Moreover, we are going back from speech to singing.
I decided to use the entire interview to sing, instead of making some songs, so I made a transcription of the complete interview.
And I came across the following questions:
Which words?
All.
We go back : from speech to singing.
So all spoken words, including all the wrong words spoken, and all giggling and stuttering included.
Ultimately, there is a (small) part of the interview I skipped. An artistic choice. The rest is all sung literally.
Hahaha and hehehehe too.
An opera or …?
What form? One 'nice' aria after the other?
Or use an idiom in which you can make a compositional construction to create the notes which will be sung?
Or just a translation of the speech in common pitches and rhythmic?
No, of course not.
I wanted to sing the words instead of speaking.
Like :
'…underneath the arches…'
'Bend it, bend it, just a little bit and take it easy, show you're likin' it'….
or whatever.
This opera feels like a tribute to three very special artists.
And you do not want to punish the audience with "difficult" modern music.
It's sung speech.
Also: Art for All is the credo of Gilbert and George.
The London taxi drivers must understand their art as well.
So they also should understand and be able to sing this opera as well.

So only 'easy tunes'?
But then you're stuck as a composer very quickly. The listener cannot stand an hour and a half filled with 'stupid' songs. It quickly gets annoying, this overdose, one song after another. (For one hour interview).
And most important: the content, the words, needed to be part of something bigger: a huge compositional form.
Oratorium, or whatever. I chose a Cantata form à la Bach.
To avoid 'kitsch' sentimentality and my own subjective interpretations, I chopped the text into pieces, rigorously.
Every scene now consists of exactly 1000 words
and is divided into 8 parts of 2 x 50, 2 x 100, 2 x 150 and 2 x 200 words, in alternating sequence.
6 Scenes, and finally a coda.
I created a musical form structure, comparable to the art-presentation of Gilbert and George.
What is musical 'shit'?
How to choose the musical material?
The interview took place during the exhibition The Naked Shit Pictures' in the Stedelijk Museum.
I made a musical translation.
I created a 'turd' theme, shit theme, a simple bassline, but each scene differently notated. In scene 2 this theme is just going straight, but in the third scene: pitch reversed.
And then: pitch and position reversed, and finally position reversed.
Every scene makes use of the same theme: the 'drol' (shit), but always in different perspective.
Interspersed with the 2nd theme: a reference to the AT5-tv tune, and the 3rd theme is from a street found cassettetape :  junk material. (Retro-cassette has a prominent place in this opera, as sound object).

Composers are capable of using compositional techniques to create a larger musical form.
Of course, music is just music, organised sound, but it requires a 'different' technique to keep the audience 1 and a half hours listening.
For me it was a compositional challenge to compose a 'grand majestic' form – with very simple and recognizable (for all !) basic material.
So the choice of musical material was not about for instance interval series such as 'A – C # – b – a # – Es' or whatever, but 'tralala, humdumdumdeedeedum, Tiddle-ee-um pompom, obladee, etc.
Tralalala, and that's it?
No, that won't work. Moreover, there is a build-up in the interview.
I chose a dramatic musical structure: the form is enlarging and multiplying all the way through.
In the 1st scene they are only just "chatting", in the 2nd scene they start to sing in the style of 'Underneath the Arches' (the successful act of Gilbert and George as singing statues),
and gradually it expands towards opera-singing: so the tempo is forced down, and it get's monumental. From exactly halfway, at the intersection point in the musical form Theo starts singing as well. Also more singers are joining. Finally the entire Gay and Lesbian Amsterdam – Choir (the choir Gala) sings along as well as a kurdish choir.
Opera as A Big Ritual.
Why do people sing songs anyway?
Traditionally mankind sang lyrics, words, to keep and to cherish, to hold and to pass on to future generations. (Troubadours, liturgical singing, etc.)
Finally, we know what happened in 2004.
Is it true that so much has changed in such a short time?
What happens with the content of speech when it is being sung ?
We're going to find out.
"Art Has to ask questions, that's it." (Gilbert and George in 1996)
HdeG 01-02-17
back to top ->
'Een Prettig Gesprek van Theo van Gogh met Gilbert & George is een programma van Theo van Gogh, Olivier Jansen en René van Praag (c) 1989-2017 TVAmsterdam/RVP Produkties, Amsterdam'.
photography London: Chris Gloag / Britt Verstegen
Many thanks to Jan Elbertse, who came up with the VHS-tape from 1996
naar een idee van JanElbertse

co-production  Nieuw West / Marien Jongewaard

zakelijke leiding Britt Verstegen
 info@cultuurkwesties.nl
31 (0)6 4577 8047

productie Geertje Spaan
 geertje@hubadegraaff.com
 31 (0)6 1438 1644

publiciteit Lonneke van Eden – bureau tamtam
 lonneke@bureautamtam.nl
 31 (0)6  290 30 776